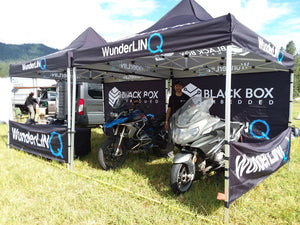 WunderLINQ at the Touratech Rally West 2019
WunderLINQ at the Touratech Rally West 2019
You may have noticed a slower response time from us for the past two weeks, we were traveling to and from the Touratech Rally West to show off the WunderLINQ. The event was a huge success we met a lot of great people. The response was overwhelmingly positive, thanks to everyone who stopped by for a demo and suggested features. Also congratulations to our Touratech Rally raffle winner, Rob Valentine. Rob won a WunderLINQ Commuter edition.
At the Rally, we also debuted a beta of Scenic 2.0 with full WunderLINQ support. Scenic 2.0 features deep WunderLINQ support, we can't wait for you to see it!
Since we rode our bikes to the event, we took the opportunity to test the WunderLINQ over long use. After about 5,500 miles collectively the WunderLINQ performed excellently. A couple of bugs were identified along with a couple of features that came to mind as we were riding.
OsmAnd WunderLINQ Support
Our patches to add WunderLINQ support to OsmAnd have been accepted. The next OsmAnd release for Android and iOS will include WunderLINQ support. This initial support will include the ability to return to the WunderLINQ app and to zoom maps.
---