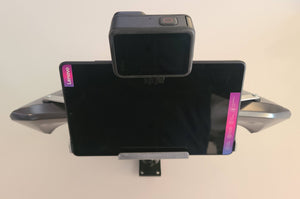 Register your interest in a possible new product!
Are you tired of dealing with flimsy, unreliable tablet and phone mounts for your 2013-2021 RT? We've got some exciting news for you! We have designed a cutting-edge locking tablet and phone mount that promises to revolutionize your riding experience. But before we move forward with manufacturing, we would love to hear from you and gauge your interest in this remarkable product.
Our locking tablet and phone mount is meticulously crafted to cater to the needs of RT owners like you. Here's what sets it apart:
Enhanced Compatibility: Our mount is specifically designed to seamlessly integrate with the WunderLINQ system, ensuring a hassle-free installation process. Experience the perfect combination of functionality and convenience as you connect your devices effortlessly.

Power-Packed Performance: Stay connected and powered up on every ride. Our mount comes equipped with power capabilities, allowing you to charge your devices while on the go. No more worrying about battery life during your adventures!

Versatile GoPro Mount Location: Capture your exhilarating moments and relive them later with our mount's integrated GoPro mount location. Easily attach your action camera and document your journeys from unique angles.

Flexible Device Compatibility: We understand that every rider has their preferred tablet or phone brand. Our mount offers the flexibility to accommodate a wide variety of tablets and phones, ensuring that you can securely attach your device of choice.
Register your interest here!
---