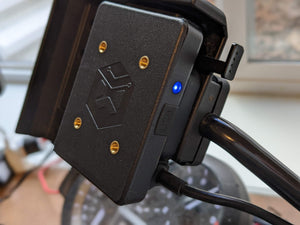 New WunderLINQ and App Updates
New WunderLINQ
We've spent the last few months moving our injection molding to a new company that is completely based out of the US. Since this required a new mold we decided to make some enhancements based on feedback received from our customers and resellers. The new design includes an integrated rubber USB plug, textured surface, and no visible fasteners.
A lot of you have asked us to open preorders. We've just received the samples of these cases last week and feel confident that after a small tweak they will be ready. Given this, we will now open preorders, with the tentative ship date of April.

App Updates
We've started some interface enhancements in the app. The current Android beta now includes these, iOS will start receiving them soon.  Currently, the big changes include:
A new first-run wizard the prompts and explains the need for the permissions that the app requests.  After this, you will no longer be prompted.

Data grid icons that change based on their value. 

Redesigned Quick Task screen

New WunderLINQ icon seen below
As always please keep sending your ideas and thoughts in!
---