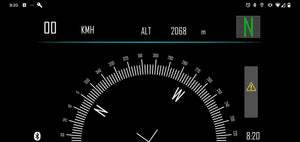 New Adventure and Sport Dashboards
We've released new Android and iOS App betas that include two new dashboards.  The first is the previously announce Sport dashboard and the second is a new Adventure dashboard, pictured above.  These are still considered works in progress.  We would love to get some feedback on what you would like to see added.  Currently they can be toggled through by using the long left press or Enter while on a dashboard screen.  The info line data point on the dashboards can also changed by scrolling the wheel or UP and DOWN.  
In addition to the two new dashboards we've also added a few other new features and enhancements along with some bug fixes.  Below is a more extensive list of changes.
[Dashboard] Adventure Dashboard
[Dashboard] Sport Dashboard
[Dashboard] Max RPM Display Setting (10K, 12K & 15K)
[Dashboard] Up/Down changes Info Line data point
[GoPro] Indicate up to Hero8 is currently supported, Hero9 is not currently supported
[QuickTask][Android] App launcher Task, allows launching of any installed App
[Music][Android] Better play/pause control via wheel
[Music][Android] Permissions error takes you to Notification Access permissions page
[Music][Android] Touching album art launches active media player.
[Translations] Polish
[Misc] Bug fixes and enhancements
---