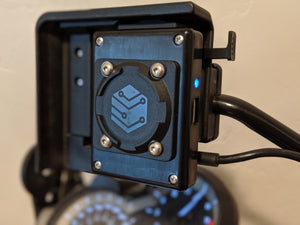 Magnetic Mount Now Available!
After a year of development, our new Magnetic Mount is now available for purchase.  
The Magnetic Mount by Black Box Embedded is a phone mount designed for use with the WunderLINQ or any other mounting surface with the AMPS bolt pattern.  The mount consists of two pieces one with AMP style bolt pattern and one with adhesive to affix to your phone case. Each piece contains a large Neodymium N52 magnet.  The two magnets use their strong attraction to hold your phone in either horizontal or landscape positions.
Includes Magnetic Mount (2pcs) and stainless screws with washers to fasten to the WunderLINQ.  
We would like to thank our new injection molding partner Three R Plastics, for the amazing work.
---