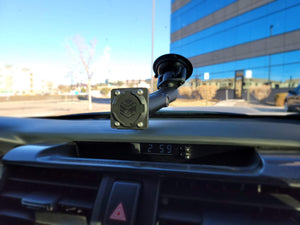 December Update
Happy Holidays!
We would like to wish everyone celebrating holidays during this time Happy Holidays and a Happy New Year!
Here a few updates we wanted to pass on.
WunderLINQ Firmware 2.0
For the last couple of months, we've been working on a major firmware update for the WunderLINQ.  We plan on releasing firmware 2.0 and new app betas as soon as the documentation updates are finished.  
Firmware version 2.0 will include the following major new features. 
Removed the requirement to set the WunderLINQ in Full or RT/K1600 Mode, WunderLINQ just works on either bike.

New Default and Custom Mode

Added new default mapping for Android/iOS system audio mute to long signal cancel press or "Mute" menu on the RT/K1600

Custom Key Mapping.  This feature will allow you to remap the wheel controls to any possible keyboard keypresses.  On RT/K1600 we allow mapping of single and double press actions to all cluster navigation menu items.  

USB Port Control.  This will allow you to set the USB port to "Off", "On" or "On Engine".
Product Updates
We are in the process of adding a few new accessories to our shop. 
Phone Tether Card
The Phone Tether Card is a thin adhesive-backed card that provides an attachment point to tether your phone to your bike.  We now include these cards in the Magnetic Mount - WunderLINQ Kit at no charge.
Magnetic Mount - Bare
The Magnetic Mount - Bare is now available without fasteners at a slightly discounted price.  This is intended for folks who aren't mounting it to the WunderLINQ.
Magnetic Mount - Automobile Kit
The Magnetic Mount - Automobile Kit is coming in late January.  The kit includes our Magnetic Mount on a windshield mount for use in your automobile.  
WunderLINQ Reviewed
The WunderLINQ was reviewed in the December 2020 issue of The Shaft you can check it out here.
---